A marvelous sight to behold come day or night, stop along your tour of Kuala Lumpur to visit the world's tallest twin structures: the Petronas Twin Towers.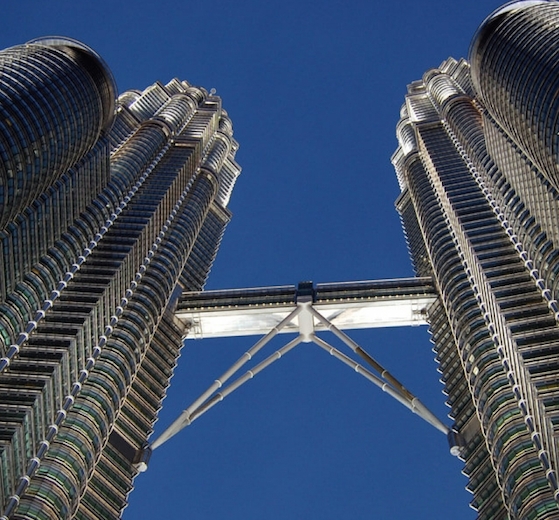 Operational Hours
| | |
| --- | --- |
| Monday | 10:00 am to 09:00 pm |
| Tuesday | 10:00 am to 09:00 pm |
| Wednesday | 10:00 am to 09:00 pm |
| Thursday | 10:00 am to 09:00 pm |
| Friday | 10:00 am to 09:00 pm |
| Saturday | 10:00 am to 09:00 pm |
| Sunday | 10:00 am to 09:00 pm |
A famous landmark in Malaysia, the Petronas Twin Towers is usually what comes to mind first when you mention Kuala Lumpur. Also known as Menara Petronas, it is a pair of skyscraper buildings that rise up to a height of 452 metres. At one point it was considered the tallest building in the world before even higher records were set.
There are daily tours of the Petronas Twin Towers where you can explore the observation deck and walk on the famous Skybridge on the 41st floor of the tower. You get amazing views of the city here and it is definitely recommended if it is your first time visiting Kuala Lumpur. You can also get nice shots of the twin towers from outside without entering the tower. Just go to the main road intersection in front of Petronas Twin Towers or the KLCC Park to set up your cameras!
The towers are built with a design motif inspired by Islamic influences. If you look closely, the towers resemble an Islamic minaret design. Once you are done sightseeing, you can visit Suria KLCC shopping centre to get your shopping fix in Kuala Lumpur as there are many retail outlets as well as two different food courts for you to explore local delicacies conveniently.
Get your dose of green at the KLCC Park, an urban park that's located right behind the twin towers! Facilities here are numerous, there is a swimming pool for kids, a 43 metre elevated bridge, children's playground and jogging trails for you to gaze at the nearly 1900 trees planted at this park. Make sure to visit at night as well to view the beautiful light show at the 'dancing' musical water fountain shoots up water jets to nearly 40 metres!
The Petronas Twin Towers has a shopping mall in its grounds called Suria KLCC. There are a bunch of international shopping brands and electronics that you can choose to shop from! Stop by some of the pewter shops where you can get small pewter tokens in various designs to remind you of your visit to the Petronas Twin Towers, which in a tin mine area itself before construction.
Solo , Couple , Friends , Family , Group
The Petronas Twin Towers is located in the city centre and is easily accessible by many modes of transport. Most convenient way is to get here by train (MyRapid LRT). From any LRT stations, get your tickets to KLCC station and hop on the Kelana Jaya LRT line. The KLCC station is located underground below the Petronas Twin Towers area. A walk from the LRT to the towers is a mere 5 minutes.
You can also get to Petronas Twin Towers by using a ride-sharing app or other public transportation such as by bus or taxi. However, do note that traffic jams in the vicinity tend to get very hectic so it's better to avoid transport by road during peak hours.
If you would like to visit the Observation Deck and Skybridge, make sure to book your tickets in advance as they sell out quickly.
Don't leave your possessions unguarded during the fountain show as there is a risk of pickpockets.
If you're taking a taxi, make sure to use the meter or settle the price before entering the vehicle.
The best views of the Petronas Twin Towers are actually from Traders Hotel right opposite!
You can get a scenic timelapse video at the main road intersection in front of Petronas Twin Towers. It's also free!
If you are walking within the area of Petronas Twin Towers, you can enjoy a delicious and affordable local delicacies at the nearby Wisma Central. There are many food stalls located here and some restaurants too. It's worth the visit for breakfast or lunch.