Zouk is a place where music is celebrated. Here, you can meet urban KL-lites who share the same passion for music while dancing and socialising together!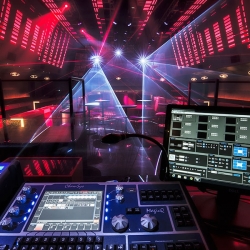 Operational Hours
| | |
| --- | --- |
| Monday | 10:00 pm to 03:00 am |
| Tuesday | 10:00 pm to 03:00 am |
| Wednesday | 10:00 pm to 04:00 am |
| Thursday | 10:00 pm to 05:00 am |
| Friday | 10:00 pm to 05:00 am |
| Saturday | 10:00 pm to 05:00 am |
| Sunday | 10:00 pm to 03:00 am |
Zouk basically is a hub of nightlife in Kuala Lumpur. Most of the people that do come to Zouk is because of the drinks and music. There are also frequent music events held here where you can join to experience live music. If you are looking for something a bit more different than pop or club music, within it also has different clubs with different kind of music genres like.
Remember to bring your identification card for identity purposes because there is an age limit before entering the club. You have to be 21 years old and above.
Toilet for female and male is provided.
There is a cafe bar that opens daily from 5pm onwards.
You can also enquire for a bottle service.
A total of 11 different rooms with different kind of music genres.
Remember to be aware of your personal belongings as the area might be crowded. Also, make sure to always drink responsibly so that you wouldn't put other people's life in danger. To avoid any mishaps, you can get a cab ride as an easier option. This way, you can also save on parking fee.
The price rate for entrance and drinks before midnight is cheaper than after midnight. Plan your time to visit here to spend smartly.
During weekends, crowds would be more than usual, and you might need to wait for a table, unless you come early.
On Wednesdays, they celebrate a weekly event names Ladies Night Out and ladies get to enjoy free drinks.
Some of the most visited rooms include; Zouk Main Room (EDM, Trance, Techno, Electro, Trap Music), Ace (Hip Hop, R&B, Deep House, Techno), Velvet Underground (Open Format, Commercial House) and Imperial (Urban Music).
In the same nearby area, there is also a nightlife spot called TREC that you can visit for bar-hopping. Locals usually go there for pre-drinks and head over to Zouk Club to continue partying.