Dine in a mamak-style restaurant serving the best banana leaf rice you can ever find in Kuala Lumpur. It will definitely leave you craving for more!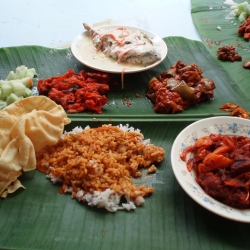 Operational Hours
| | |
| --- | --- |
| Monday | 08:00 am to 01:00 am |
| Tuesday | 08:00 am to 01:00 am |
| Wednesday | 08:00 am to 01:00 am |
| Thursday | 08:00 am to 01:00 am |
| Friday | 08:00 am to 01:00 am |
| Saturday | 08:00 am to 01:00 am |
| Sunday | 08:00 am to 01:00 am |
On a suburban strip packed with fine dining options and swanky European eateries, Sri Nirwana Maju Restaurant stands out as Jalan Telawi's go-to banana leaf rice haunt. Here, you can also find other Indian cuisines like Masala, curry and Briyani rice. The locals and foreigners alike keep coming back for Nirwana's winning combination of banana leaf rice with top notch condiments, well prepared roti (bread) and refreshing lassi.
Interior (non-smoking) and exterior space to dine in.
Toilets for both men and women.
Take away service, if you choose not to eat here.
Finding a parking spot here can be very difficult. If you come during peak hours, you might need to park very far. Make sure you check your surroundings to ensure that you're safe at all times.
Solo , Couple , Friends , Family , Group
If you arrive during lunch or dinner hours, you might have to queue up but it will all be worth it because the food here is to die for.
Try eating the banana leaf rice with rassam, a savoury soup that will surely add more flavours to your dish.
Besides having the banana leaf rice set, you can also add on a variety of dishes from chicken, mutton, vegetables, and seafood.
It is recommended to try the mutton curry with banana leaf rice and the mango lassi as your refreshments.
To get the full Indian taste, try eating with your hands!
43, Jalan Telawi 3, Bangsar Baru, 59100 Kuala Lumpur, Wilayah Persekutuan Kuala Lumpur, Malaysia
+60 3-2287 8445