Petrosains is famous to be an interactive science discovery centre for everyone of all ages. It engages your touch, sight, and sound in many aspects of science.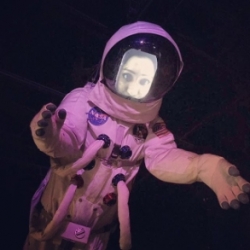 Operational Hours
| | |
| --- | --- |
| Monday | Closed |
| Tuesday | 09:30 am to 05:30 pm |
| Wednesday | 09:30 am to 05:30 pm |
| Thursday | 09:30 am to 05:30 pm |
| Friday | 09:30 am to 05:30 pm |
| Saturday | 09:30 am to 05:30 pm |
| Sunday | 09:30 am to 05:30 pm |
If you and your family are looking for exciting yet educational indoor activities, the Petrosains Science Discovery Centre will definitely offer that in abundance. Here, the concept and contents of the activities were curated with an interactive approach to tell the story of science and technology revolving specifically around the science of petroleum,
While embracing practical learning of all general sciences, the hands-on approach adopted by Petrosains puts an emphasis on the excitement of learning rather than on the rigorous memorisation of scientific facts. The 7000sqm discovery centre is filled with plenty of activities for kids of just about any age, from toddlers to teenagers.
Some of the main activities that you and your children should try here including the hurricane wind simulator, puzzle room, 3D shows, robot tennis, arcade race games, the Mind Ball game and optical illusion demonstrations. There is also a pre-historic world area where a huge replica of tyrannosaurus rex dinosaur is displayed. Take your time to discover all the activities and engage with the experiments conducted by the friendly staff. The vibrant and quirky interior will definitely excite the children and as a parent, you will find this place very convenient with all the family-friendly facilities.
As it is located indoors and fully air-conditioned, the place is quite cold so be sure to bring jackets or outerwear for your kids.
Toilets
Café
Lockers
Baby changing room
Wheelchair service (limited availability)
Baby stroller (limited availability)
You don't really have to worry about the safety of all the activities here as there are staff placed in each area to keep an eye on the visitors as well as the children.
As the area is huge and there are plenty of sections and rooms, be sure not to lose sight of your kids!
You will do a lot of walking, so make sure you wear comfortable shoes and clothing.
The best time to come here is in the morning. Less crowd and you can spend more time here with your kids.
Avoid coming on the weekend or public holidays as it will be very packed.
There are normally interactive science workshops with different themes and courses held here. Before you plan your trip, try and check their activity calendar on Petrosains official website to see if there are any workshops held that you can join with your kids.
Don't be fooled by the entrance. The place is much larger than it seems and the area inside is huge.
Make sure you drop by the gift shop before you leave. Get some realistic science figure or toys for your kids to remember their trip here at Petrosains.
Last admission for weekdays is at 4pm while on weekends is at 5pm.