Definitely not for the faint-hearted! For the thrill seekers, try parasailing in the evening before sunset to see Batu Ferringhi from above during magic hour.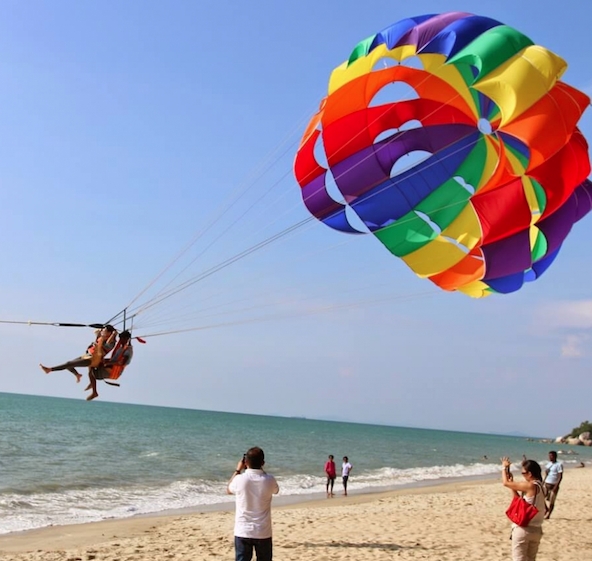 Operational Hours
| | |
| --- | --- |
| Monday | 09:00 am to 07:30 pm |
| Tuesday | 09:00 am to 07:30 pm |
| Wednesday | 09:00 am to 07:30 pm |
| Thursday | 09:00 am to 07:30 pm |
| Friday | 09:00 am to 07:30 pm |
| Saturday | 09:00 am to 07:30 pm |
| Sunday | 09:00 am to 07:30 pm |
Before attempting anything, be sure you acquire the services from one of the 23 watersport operators who are members of the Penang Watercraft Operators Association. Since there were many reported accidents involving parasailing over the last few years, Penang Island City Council (MPPP) have issued parasailing permits to operators with winch boats licensed by the Marine Department.
Before take off, you will be given instructions on how to maneuver and descend while parasailing. The watersports operators while make sure you are fastened to the safety harness before a test run that will take you out to sea and circle in the air. Hang tight and enjoy the view!
Make the experience last longer and strap on a GoPro to capture your flight.
For extra sunny days, be sure to put on some sun block to avoid yourself getting burned.
Caps, sunglasses and an extra camera are all essential to make sure you really get your money's worth.
Jet ski, windsurfing, beach buggy, deep sea fishing, horseback riding, snorkeling are all available along the coastline of Batu Ferringhi. If you just want to relax and take your time, there's a foot reflexology centre and fish spas for you to melt your stress away. For foodies, there are many places to eat in Batu Ferringhi with loads of restaurants and food courts serving fine dining to casual street food at some of the best locations on the shore.
Solo , Couple , Friends , Family
Parasailing needs to be done 250m away from the shoreline for safety purposes and if you encounter an operator using a speedboat, best avoid at all costs.
Only insist on licensed watersport operators with proper safety equipment and professional instructors.
Parasailing needs good wind so forget about going in the morning. Better to do it after 2pm as the wind picks up along the shoreline.
Check out Wave Runner Watersports or East Wind Watersports. Both are professional and licensed operators with a good track record in safety. With trained professionals, you will be sure to get the best experience at some of the best prices on the island. Don't waste your time with the beach boys and illegal vendors who constantly hassle you with good prices. Their equipment are usually shoddy and instructors aren't properly trained in safety.