Dedicated to the pursuit of the best tasting durians, this family-run farm focuses on pesticide-free organic farming to produce natural and tasty durians.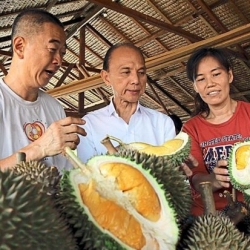 Operational Hours
| | |
| --- | --- |
| Monday | 11:00 am to 07:00 pm |
| Tuesday | 11:00 am to 07:00 pm |
| Wednesday | 11:00 am to 07:00 pm |
| Thursday | 11:00 am to 07:00 pm |
| Friday | 11:00 am to 07:00 pm |
| Saturday | 11:00 am to 07:00 pm |
| Sunday | 11:00 am to 07:00 pm |
Located in Balik Pulau, Bao Sheng Durian Farm first opened in 1959 after 'Durian Seng's' father - Chang Fatt Hin discovered durian grafting. Today, the farm is managed by his son who switched the 6.7-acre durian farm to organic farming practices free from harmful pesticides. Now coming to their 3rd generation of durian farmers, Durian Seng a.k.a Cheng Teik Seng together with his son and wife manage the durian farm that comes fully equipped with Standard Villa, Deluxe Villa, Tatami Room and pristine swimming pools.
For the durian crazy, here's your chance to sample some 'numb' tasting sensation from prized durian species such as Little Red, Lipan, Kunpoh Angbak, Kapri, Green Skin Angbak and many more. There are packages available too especially during the peak durian season. Expect to be surrounded by lush green surroundings and epic sunsets during your durian-themed stay!
Since the farm is located in the jungle, expect to encounter a lot of wildlife and insects along the way. Bring along an organic insect repellent if you plan to stay overnight.
Don't forget to bring a camera too because the farm has a stunning view of Balik Pulau Town from on top the hill at Titi Kerawang.
Accommodations range from the Standard Villa, Deluxe Villa and the hostel like Tatami Room. Each comes equipped with the essentials such as air conditioning, power outlets, comfy beds, bean bag chairs and toilets. The Deluxe Villa also comes with LED TV and fridge inside the room. There's also a BBQ Grill if you fancy on having a cookout or simply just laze in the swimming pool after a hearty day of durian feasting.
Solo , Couple , Friends , Family , Group
To get full view of the durian farm, a tour with some interesting storytelling will be done by Durian Seng (or whomever is in charge that day). Expect to do a bit of hiking and roughing it out in the forest. Watch your step though because there are no railings or clear path during the tour. Proper hiking gear complete with hiking shoes and hiking stick will definitely be a good idea.
As there's a constant demand for durian at all times of the year, be sure to call in advance to check for availability. Seek any advice on the best times to stay as there's nothing better than waking up to a 'thud' of fresh durian from the trees!
Alternatively, plan your trip during Bao Sheng Durian Festival where you can enjoy day and night of durian buffet as well as tropical fruit feast! You can meet other durian lovers too which comes from all over the globe including Denmark, Australia, Canada, Slovenia, U.S., United Kingdom and Singapore. f you choose to come here just for a visit, get the one-day pass for unlimited durian feast at RM250 per adult, and half price for children (7-11 years old) from Monday to Thursday. Alternatively, you can stay here for a better experience at an affordable price starting from RM180 per room (Tatami Room) during non-durian season, and up to RM800 per room (Deluxe Villa) during durian season.