A refreshing change from the hustle and bustle of island life, Penang Hill transports visitors back to a calm and cooling atmosphere with plenty of culture, heritage, nature and food! Penang Hill (or formerly known as Flagstaff Hill or Bukit Bendera).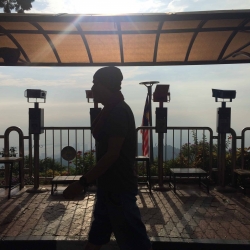 Operational Hours
| | |
| --- | --- |
| Monday | 06:30 am to 11:00 pm |
| Tuesday | 06:30 am to 11:00 pm |
| Wednesday | 06:30 am to 11:00 pm |
| Thursday | 06:30 am to 11:00 pm |
| Friday | 06:30 am to 11:00 pm |
| Saturday | 06:30 am to 11:00 pm |
| Sunday | 06:30 am to 11:00 pm |
To get to Penang Hill, a funicular train system is available every half hourly starting from 6.30am - 11.00pm daily. The half hour journey to the top will take visitors through two stations with a tiny historical museum that depicts the history of the train service. Many runners and hikers also come to Penang Hill to test themselves on the winding roads and fascinating tropical flora and fauna. Expect to find Monkey Plants and Slipper Orchids aplenty. If you're lucky, you might also be able to spot some Dusky Leaf Monkeys, Black Giant Squirrels and the Greater Racket-Tail Dongo bird!
Penang Hill also offers visitors a glimpse of its diversity. There is Penang Hill Hindu Temple (Sri Aruloli Thirumurugan) one of the oldest Hindu temples in Penang. It also houses Masjid Bukit Bendera (Penang Hill Mosque) which serves the community that mostly works for Penang Hill Railway Station. There is also an Owl Museum which features artworks and pieces of these cute critters, evoking a playful creativity and child like fascination. The Owl Museum opens daily from 9am to 6pm with tickets charged at RM10 for adults while children get free access!
Turn your hands into works of arts from the famous Penang Hill Henna Artists. For a bit of fun, you too can get yourself done up by these experienced artists who have been serving tourists since 1994. They also provide face painting, body art and super fast air brush tattoos using safe ingredients - making it very kid friendly. For those who are keen to take some munchies home, be on the look out for the Famous Penang Hill Kacang Putih stall under the giant tree at the upper station. Selling a variety of nuts, chickpeas, chips and other spiced goodies, the friendly stall owner Mr. Sathivel will provide you with playful chatter and recommendations on his many spiced concoctions! Worth a visit for a truly Penang snacking experience.
Solo , Couple , Friends , Family , Group
There are 3 ways to get to the top of Penang Hill - 1. Walk up from the Botanical Gardens - you have to be fit as the inclines are steep. 2. Take a 4x4 vehicle ride from the Botanical Gardens - a little on the expensive side (RM160) per vehicle of 4 but this will also bring you back down. 3. Take the famous railway which has a range of pricing including a VIP pass which lets you board ahead of the crowd thus enabling you to get the better view both going up and coming back down. If you are coming from mainland Penang, getting to Penang Hill by bus is relatively easy depending on the location you are from ; RAPID BUS - 204(FROM JETTY TO BUKIT BENDERA) PRICE : RM2.80 RAPID BUS - 204(FROM KOMTAR TO BUKIT BENDERA) PRICE : RM2.00 HOP ON HOP OFF BUS TOUR PACKAGE : CITY ROUTE BUS OPERATION TIME : DAILY – 9.00AM TILL 8.00PM BUS STOP INTERVAL : 20 – 30 MINUTES
Try and avoid popular weekends and peak holiday periods as this place will be crowded, which will be hassling especially if you are travelling with children or in groups.
The entrance fee to Penang Hills will cost RM3 for locals, RM30 for tourists, and RM5 for children. If you want to avoid the hassle and long queues, purchase the VIP fast lane tickets which costs RM60 per adult.