Spend a fun time exploring the streets of Love Lane and other bicycle friendly trails around Georgetown to discover its many hidden gems.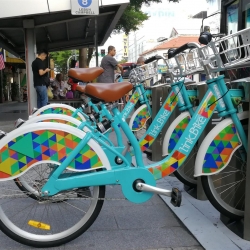 Operational Hours
| | |
| --- | --- |
| Monday | 09:30 am to 07:00 pm |
| Tuesday | 09:30 am to 07:00 pm |
| Wednesday | 09:30 am to 07:00 pm |
| Thursday | 09:30 am to 07:00 pm |
| Friday | 09:30 am to 07:00 pm |
| Saturday | 09:30 am to 07:00 pm |
| Sunday | 09:30 am to 07:00 pm |
There are many legends on how 'Love Lane' got its moniker, the most popular one; it was the site where rich men kept their mistresses. Today, Love Lane forms the boundary between the core buffer zones of Georgetown Unesco World Heritage Site - running from Farquhar Street, Muntri Street to Chulia Street.
Choose from single seater bikes or if you're feeling adventurous, there are also two seater tandem bicycles. These bicycles are available for a day's rent at outlets such as Chin Seng Leong Bicycle Shop on Armenian Street, The Leaf Bicycle rental on Penang Street, Townbikes on Chulia Lane, Lovebike on Love Lane and Freedom Leisure Cycle Supply on Victoria Street.
Other sights to visit in Love Lane is the Carpenter's Guild - founded in 1850 as a starting point for craftsmen and builders. Part of the street art trail can also be found here, most notably Ernest Zacharevic's Broken Heart mural, 'Budget Hotels' steel sculpture by Reggie Lee and 'Cheating Husband' steel sculpture by Tan Mung Kian.
If you are feeling peckish after a hard day's exploring, you will be pleased to know that there are lots of hip and kitsch bicycle-themed cafes available on Love Lane. Take some time out at Wheeler's Coffee with its unmistakeable hanging bicycle signage, serving coffee, brunch and desserts.
Cycling in Penang may be fun and healthy, but it all depends on the weather. Some days it can be really hot, and on some days it could be pouring. Either way, stay comfortable during your journey and pack as much bottled water, spare clothes and snacks if you must.
There are a lot of bicycle lanes popping up in Penang, although most riders are using it for their leisure rides. Designated bicycle parking slots are also available but only limited to certain places.
Couple , Friends , Family
Although the general traffic situation in Love Lane looks pretty safe, it is always good to practice road safety at all times. Stay on the bike lanes, avoid riding with traffic and always ride in groups. Even though it is not necessary, wearing a helmet and putting on a bright cycling vest can help make your experience much safer.
For the strong willed cyclist in you, there is a Round-Island route from Georgetown's Pengkalan Weld, curling around the foothills of Balik Pulau, the gruelling hill climb of Teluk Bahang and Batu Ferringhi, and then heading back to Georgetown through Tanjung Bungah and Tanjung Tokong. It is an 82km long route and if you're planning to cycle along this route, you need to be moderately fit and be prepared with a proper bicycle setup (road bike or mountain bike).