Pulau Pinang or Penang island is a diverse and exciting cosmopoliton filled with arts, culture, heritage and glorious food all packed in one UNESCO Heritage Site. The Pearl Island has come a long way since its colonial days but still retains its magic.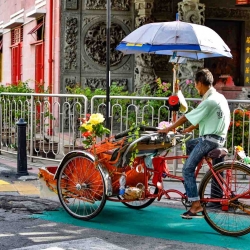 For a clear view of Penang from a vantage point, Penang Hill (Bukit Bendera) offers refreshing views and train rides. Penang is also a food haven, so get a taste of local delights and fresh seafood at Gurney Drive Hawker Center.
Being a melting pot of cultures, Penang has may museums and galleries that add to its quirky island charm. The Made in Penang Museum offers visitors a taste into what makes Penang culture so irresistible with 3D installations and artworks. For a taste of colonial Penang architecture and cuisine, Suffolk House offers a taste of British elegance set against modern Penang with an exciting restaurant menu to suit your fine dining palate.
January - Chinese New Year celebrations.
February - December
Solo , Couple , Friends , Family , Group
Nasi Kandar
Hawker Delights
Penang Char Kuey Teow
Nyonya cuisine
Chicken curry kapitan
Line Clear Nasi Kandar
Nasi Kandar Beratur
Gurney Drive Hawker Center
Haria Penang Haria! (Go Penang Go!)
Noqhorom (WTF)
Kasi kuah lebih ( Extra gravy please)
A roadtrip up to Penang from Kuala Lumpur may only take roughly 4-5 hours depending on traffic. So why bother with the jam? Flying into Penang is relatively easy via Penang International Airport but If you have time to kill, why not take the scenic route and go by rail via ETS (electric Train System) from KL sentral which takes about 4 hours to arrive at Butterworth station. Only by rail will you get views of mountains, paddy fields and shimmering lakes all through the back lanes of Selangor, Negeri Sembilan, Perak, Penang and Kedah.