Visit Kenyir Lake (Tasik Kenyir) for a mix of emerald sea, golden sunlight and rich marine and coral islands in the world's oldest tropical rainforest! Best for off the beaten path nature adventure in stunning green landscapes.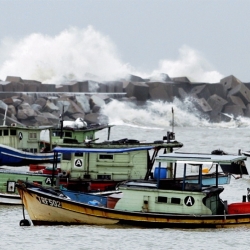 Terengganu is situated in eastern Peninsular Malaysia, and is bordered in the northwest by Kelantan, the southwest by Pahang, and the east by the South China Sea. Several outlying islands including Pulau Perhentian, Pulau Kapas and Pulau Redang - are also part of this glorious state.
Although many flock to the islands for a taste of the slow beach life in pristine clear water and white sands, the city of Kuala Terengganu (or KT) offers plenty of things to see, shop and eat! From Budu to Laksam to Nasi Dagang - the list of things to eat here is pretty endless.
Mixed with predominantly Malay, Chinese, Indian, Siamese and the orang asli, the 'Ganu' dialect is the way to go here. As the first state to receive Islam in Malaysia, there are many beautiful mosque strewn all over but don't forget to visit the Crystal Mosque at the Islamic Heritage Park - built by steel and glass and touted to be the nation's first smart mosque for an evening photo opportunity.
For a bit of shopping, head on to the famous Pasar Payang (Central Market) for bargains on local batiks and textiles. And if you fancy a slow boat ride, why not explore Terengganu with a boat ride? Located near the market, there's a boat ride that caters for private tours at decent prices.
For a taste of the whimsical, Kampung Cina or Chinatown retains its rustic charm with its many old Chinese style shophouses, blingy trishaws, artisans, goldsmiths, pawnshops and old style kopitiams.
Take a short hike up Bukit Puteri to see the historic twin cannons of Meriam Beranak which sit on top still guarding the city of KT along the Bukit Puteri Fort.
For a rather unusual fishing experience, 'candat sotong' or squid fishing on trawlers under the night sky is definitely a private trip worth exploring and is easily planned!