A conservative of Malay state and islamic traditions, unique dialect and the mix of culture. Kelantan, the land of knowledge and adventure.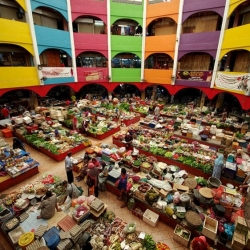 Kelantan is an old-fashioned of malay tradition. A religious state where mostly started by graduates of religious studies from Egypt, Saudi Arabia, Jordan, or other Middle East countries. A mix culture between Kelantanese and Siamese.
Experience the local by starting with the food. Nasi kerabu one of the best Kelantanese cuisine to offer. Kelantan's location in northeastern Peninsular Malaysia has naturally imparted a hint of Thai-ness to Kelantan delicacies. For breakfast, Roti Titab is Kelantan's nominal breakfast before starting your day.
Pasar Besar Siti Khadijah is a must-visit place where it is a traditional, multilevel indoor market featuring produce, street food, clothing & housewares.
Kelantan is a famous with the malay arts. The state's most instantly recognizable symbol is the wau bulan ("moon kite").
Combine these with rustic fishing villages, a sparsely populated interior, challenging mountains, spectacular rivers and mystical caves and you can see that Kelantan has something for everyone.
Pantai Cahaya Bulan, the beach area is renowned for its long and wide, with beautiful sand and clear water. Rows of trees ru and coconut trees also add to the beauty of this beach. Therefore Pantai Cahaya Bulan has become a popular picnic spot among local families.
February - May, November - January please avoid because raining season.
Solo , Couple , Friends , Family , Group
Nasi Kerabu, Ayam Percik, Nasi Dagang, Nasi Tumpang (rice rolled up in a banana leaf so it resembles an ice-cream cone shape, with omelette, curry and meat floss packed inside), lompat tikam, laksam kelantan
Restoran Nasi Ulam Cikgu Kg. Kraftangan, Sun Two Restaurant, Restoran Golden City, Kopitiam Kita, Four Seasons Restaurant, Nasi Berlauk Pokok Kekuk, Restoran Hover
Selamat pagi/petang. (Good morning/evening)
How are you? (Apa khabar?)
Terima kasih. (Thank you)
Berapakah harga ini? (What is the price?)
Boleh tolong saya? (Can you help me?)
Kurang manis. (Less sweet)
Kurang pedas. (Less spicy)
Awak tahu di mana tempat ini? (Do you know where is this place?)
Tandas di mana? (Where is the toilet?)
Maaf. (Sorry)
Boleh awak tolong saya ambil gambar? (Could you help me take a picture?)
Don't be afraid to ask the locals what's good to eat in a certain area, they are happy to help as long you ask kindly.
The Kelantanese dialect of Malay is quite incomprehensible to outsiders.
You should try "Nasi air" (Local porridge)
it's important to respect local mores, especially if you head out into the countryside. It is not necessary or expected for non-Muslim women to wear a headscarf (though it would certainly meet with approval), but both men and women should wear clothing that covers all or at least most of their legs (no short shorts), and women should wear blouses or dresses which cover their torso.