With over 3 million visitors yearly, Langkawi is a popular hit among holiday goers for its beautiful beaches, underwater gems and mishmash of Malaysian culture.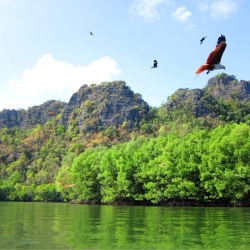 Sightseeing areas are aplenty on the island. Go to the Langkawi Sky Bridge for breathtaking views as you're elevated 700m above sea level. Plus, to get here, you get to take the Langkawi cable car ride!
At night, stroll along Pantai Cenang for a glimpse of easy-going nightlife on the island with the many bars and dining options around the area. Seafood is freshly caught from the sea and you'll have no trouble finding delicious local delicacies!
Sign up for a scuba diving or snorkelling course and explore unique underwater locations while getting to know the marine life a little better. Once you're tired from the adventure, stop by the duty free shopping malls where you can get items such as booze and chocolates at extremely cheap prices to take home!
The beaches are the first place to go once you arrive on the island. Pantai Cenang is famous for it's soft sands and nightlife along with Pantai Tengah and Tanjung Rhu in the North. For great photography opportunities and a nice place to hang out, head to Dataran Lang which houses the iconic eagle statue.
A tour to Kilim Karst Geoforest Park is an unforgettable experience as you enter a 10 million year old natural rainforest while exploring hidden lagoons and spotting the elusive wildlife such as macaques and Brahminy Kite eagles. There are also forest treks you can undertake on your own to go swim at waterfalls.
January - Dry season
February - Dry season, Ironman Langkawi Triathlon
March - Dry season, LIMA (Langkawi International Maritime & Aerospace Exhibition
April - Dry season, Langkawi International Water Festival (Water sports competition)
May - Mid season: Less tourists, accommodation discounts, occasional rain, Ramadan month may affect operations of some business on the island.
June until August - Mid season: Less tourists, accommodation discounts, occasional rain, Ramadan month may affect operations of some business on the island.
September until October - Rainy season: avoid
November until December - Dry season
Solo , Couple , Friends , Family , Group
Nasi campur, Grilled fish (Ikan bakar), BBQ Lobster and chilli crab, Nyonya pongteh, nasi kandar, giant tiger prawns, ramly beef burger.
Kak Yah Kondo, Restoran Siti Fatimah, Langkawi Fish Farm Restaurant, FatCUPID, Tomato Nasi Kandar, Orkid Ria Seafood Restaurant
Selamat pagi/petang. (Good morning/evening)
Terima kasih. (Thank you)
Maaf. (Sorry)
Berapakah harga ini? (What is the price?)
Bolehkah anda membantu saya? (Can you help me?)
Tandas di mana? (Where is the toilet?)
Tolong kurangkan gula. (Less sugar, please)
Pantai. (Beach)
Technically, you can travel the island by bike, but due to the hot weather it's much better to just rent a car from one of the many licensed dealers. It's quite cheap too!
The fastest way to get here is by a flight. Ferries from Penang Island and the mainland are also operational but there isn't a big difference in price to make up for the drastically different travel times.
Kuah is the perfect place to get duty-free cheap booze, chocolates and cigarettes. Do read up on the limits before going on your shopping frenzy.
If you're a health nut, explore the Ironman challenge and register for it!