Famed for its numerous historical sites, tonnes of food to try out and natural wonders, Ipoh is the ultimate destination to learn what it means to be Malaysian.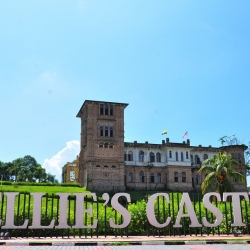 Eating is probably the best activity to do in Ipoh as you will definitely be spoilt for choice. Start your day off in the traditional coffee shops or 'kopitiam' as what the locals call it. Find them aplenty in town, with some over 70 years old and try a cup of strong Ipoh white coffee. Other must eats include the staple bean sprouts chicken and ais kepal snacks that are bound to bring back your childhood memories.
Once you have your belly full, a nice walk is in order! The Ipoh Heritage Walking trail brings you past many of the buildings and points of interest in town which you can explore without waiting for anyone else!
For a little more exploration, head up to Kellie's Castle in Batu Gajah. There are tours of this unfinished castle where you can learn more about the colonial history in this state and Malaysian agriculture back in the day.
An iconic sight in Ipoh is the Taiping Lake Gardens. Here since 1888, the lake is a serene place to visit and is a great spot for photography along the roads where the angsana trees that line it seem to 'curve' over the road.
Cave temples are also easily found in Ipoh as there are plenty of them. Notable examples are Sam Poh Tong and Lin Seng Tong cave temples where there are interestingly shaped stalactites in the caves which are said to resemble deities. These temples also have many caverns to explore and brightly colored statues outside from Chinese folklore which are fun to take pictures with.
Street art is all the rage at Ipoh town right now! These beautiful murals adorn the walls of some buildings and breathe a new life into the town. They are starting to wear in but still remain a top attraction as you can spend a few hours walking along the art trail.
Solo , Couple , Friends , Family , Group
White coffee & traditional toast, Nga Choy Kai (bean sprouts chicken), Ipoh Kai See Hor Fun (chicken kway teow soup), Nasi kandar, Cendol
Sin Yoon Loong Coffeeshop, Lou Wong Tauge Ayam Kuetiau, Thean Chun Coffeeshop, Nasi Kandar Ayam Merah, Cendol trucks along Jalan Bunga Raya
Selamat pagi/petang. (Good morning/evening)
Terima kasih. (Thank you)
Maaf. (Sorry)
Saya tersesat (I'm lost)
Bolehkah saya membantu anda? (Can I help you?)
Bolehkah anda membantu saya? (Can you help me?)
Berapakah harga ini? (What is the price?)
Bolehkah anda membantu saya? (Can you help me?)
Tandas di mana? (Where is the toilet?)
Ipoh's food is a mix of old coffee shops and new modern hipster cafes.
Try observing where the locals eat or even ask them where is the best place to get a good meal.
Search online or get a map from your hotel for the 'Ipoh Heritage Walk'.
You can explore most of Ipoh's famed heritage sites on foot and at your own leisure, rather than depending on a tour guide.
Local bus information here is not well documented but you can find help at the information desk at the bus station. Taxis can be pretty expensive, negotiate your price before getting into the taxi or opt for a ride sharing service such as GRAB or Uber.
Ipoh is known to be home for a large number of Hokkiens, a Chinese subgroup in Malaysia. If you wish to explore a slightly different Chinese culture and tradition during celebration of their festive season, visiting here during the Chinese New Year would be a great idea.
The city of Ipoh is known to be one of the top backpacker spots in Malaysia. Therefore, it is relatively easy to find affordable hostels and unique local accommodations here for your stay.