Perfect for a different kind of adventure outside of Georgetown, this nature-based theme park offers an abundance of family-friendly outdoor activities.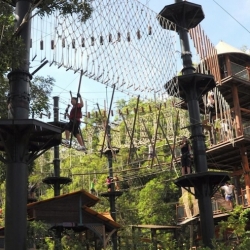 Operational Hours
| | |
| --- | --- |
| Monday | Closed |
| Tuesday | 10:00 am to 06:00 pm |
| Wednesday | 10:00 am to 06:00 pm |
| Thursday | 10:00 am to 06:00 pm |
| Friday | 10:00 am to 06:00 pm |
| Saturday | 10:00 am to 06:00 pm |
| Sunday | 10:00 am to 06:00 pm |
Expect to do a lot of swinging, jumping, abseiling, gliding, exploring and even get your hands messy with some treasure panning! ESCAPE Adventureplay puts emphasis on fun activities that are self-directed and self-powered play, creating what they call as 'Low Tech, High Fun'. Promoting the good old days where children used to play outside, this eco-family theme park will prove to you that one is never too young or even too old to have fun.
Check out activities like Monkey Business, Flying Lemur, Kite Flyer, Tubby Racer, Atan's Leap, Gecko Tower, Monkey School, Tots Trail, A-maze, Foxy Burrow, Discovery Dig, Zoom Bug, Balance Beam, Jungle Swinger, Go Ape, Aerobat, Jumping Jack, Coco Climb, 3 Sixty, Go Bananas, Serambi and Dunk Tank! Each of these activities will definitely get your heart going with its equal share of adrenaline pumping moments.
Since there's a lot of fun to be had inside this theme park located inside a rainforest - a spare change of clothes will be needed as you will get wet from sweat and get dunked in water. Bring some drinks and snacks too but remember to keep the place clean.
Base Camp is another activity at ESCAPE Adventureplay that promotes a no-frills camping experience for those who intend to spend the night. The safety of guests are of the utmost importance so you will be pleased to know that the place is packed with facilities. The walkways are illuminated with solar lighting while security is on 24-hour standby. Each tent also has its own toilet and shower, a BBQ pit and locker/gadget charging station.
The friendly ESCAPE staff here are all trained in safety with all the activities monitored by professionals. Be advised that some activities are only suitable for children at the age of 12 years old and above, so choose the most suitable activity for your little ones.
Couple , Friends , Family , Group
There will be rumours from certain quarters discouraging people from visiting ESCAPE but don't pay any attention to them. If you do plan to visit, make sure you get the best experience by dealing directly with the staff at ESCAPE to avoid disappointments and even tourist scams.
If you plan to come here, keep in mind that ESCAPE Adventureplay is closed every Monday, except during public holidays and school holidays.
You can also purchase an ESCAPE Passport at promotional rates of RM320 per adult and RM240 for kids (4-12 years old) to get annual pass for unlimited entries.
Free admission for kids below 3 years old and senior citizen aged 60 years old or above.