Get to know the local folks of Georgetown, listen to their fascinating stories, and enjoy the trishaw ride that takes you around the heritage area.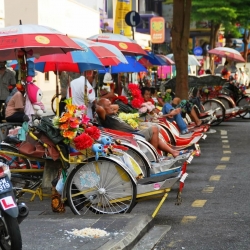 Operational Hours
| | |
| --- | --- |
| Monday | 10:00 am to 10:00 pm |
| Tuesday | 10:00 am to 10:00 pm |
| Wednesday | 10:00 am to 10:00 pm |
| Thursday | 10:00 am to 10:00 pm |
| Friday | 10:00 am to 10:00 pm |
| Saturday | 10:00 am to 10:00 pm |
| Sunday | 10:00 am to 10:00 pm |
Walking around Georgetown can be tiresome, especially on hot blazing days. But travelling around the heritage zone need not be hectic. Take it nice and slow with a trishaw tour to see the sights from a different point of view. Trishaw pick ups can be arranged straight to your hotel, either straight with the rider or through the hotel vendor. For a light feast for the eyes, take a trishaw tour at night and see Georgetown light up at night with the hordes of tricked-out trishaws taking back visitors to a way of travel from a bygone era. Talk with your friendly trishaw driver too on any hidden sights to be seen but typically, a trishaw tour around Georgetown will take you to Harmony Street, Goddess of Mercy Temple, Kapitan Keling Mosque, Chew Jetty, Hock Tiek Cheng Sin Clan House, Armenian Street, Little India, Penang Peranakan Mansion around the old British Quarter - the old town hall, court building and St George's Church.
As these trishaw tours can go for as long as 1-1 ½ hours depending on what and where you want to go, it's best to bring some light refreshments. Some snacks and drinks will definitely go a long way. However if you are really feeling hungry, just tell your trishaw driver and he will take you to the Hawker Centre or any recommended local restaurants. They will surely know the best!
Pick ups can be arranged directly to your hotel but generally these legendary trishaw men can be found at 'stations' on Jalan Penang, opposite the junction of Muntri Street or at the junction of Lebuh Armenian and Lebuh Cannon.
Couple , Friends , Family , Group
The trishaw tour is generally safe, handled by the trishaw rider who are mostly born and bred in Georgetown. However be mindful when taking the tour with children. Make sure they are seated at all times during the tour.
Want to check out the Penang Street Art Trail by trishaw? Arrange with your driver to check out the artworks in a gentle bicycle ride for more time to appreciate these masterpieces in their true element. You can also tell the trishaw drivers if you wish to visit any other places as they can make the arrangements for you.