The Penang Street Art scene explosion has undoubtedly made the island more exciting, attracting thousands of tourists in a city that is brimming with arts and creativity.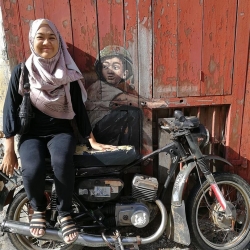 Operational Hours
Always Open
It all started in 2009 with Marking George Town, an arts festival that encouraged local artists Tan Mun Kiang and Baba Chuah to tell the story of Penang via caricatures. This was followed up the quirky steel dioramas that offer a social commentary on the island made by a locally based steel works installation team named Sculptureatwork in 2013. After creating a big buzz in the international street art scene, young Lithuanian Ernest Zacharevic was commissioned by the Penang Municipal Council to create murals for Mirrors George Town. Now anyone can just walk around and find the street art, turning it into a day of exploring the streets of Georgetown.
To find Ernest's murals, start first in Jalan Penang (Penang Street) with the 'Awaiting Trishaw Peddler' and move your way up to Jalan Muntri (Muntri Street) to spot the captivating 'Little Girl in Blue'. Turn into Lorong Love (Love Lane) and its throngs of cafes and beauty parlors to get a glimpse of 'Broken Heart (expunged)'. Head on down to Lebuh Chulia and turn into Jalan Masjid Kapitan Keling and right at the end you will find 'Reaching Up' and the haunting 'This Old Man'. Delve further into Lebuh Soo Hong and you will find the playful 'Little Boy with Pet Dinosaur' with 'The Boy on the Motorbike'. The most popular mural by the artist, 'Children on a Bicycle' is located in Gat Lebuh Armenian and right at the jetty which marks the end of the trail, you can find 'Children on a Boat'.
There are also other street murals by different artists in the area, with an estimated total of 118 attractions spread across Georgetown, Jelutong, Gelugor, Balik Pulau, Bayan Lepas and Simpang Ampat and Nibong Tebal. Let's see how many you can spot!
There's more to see, eat and buy along these streets. Also, there are plenty of places to stop and other cultural sights along the way. Enjoy a massage, sip some coffee at local cafes or kopitiam, or even go shopping at the many souvenir shops. You will also find some other street art hidden gems and other quirky art that makes Penang very unique if you explore further.
The only reward after a day of walking and street art hunting is none other than selfies and group photos! The good thing about these murals are that they are constantly in the sunlight so you can get good lighting for photos. But therein lies the problem as the murals and artwork will start to wither due to the weather. So better snap up those pictures fast! Other mementos you can bring home for something more kitschy and hipster-like, visit the quirky 14 Living Story on Lebuh Armenian to find handicraft and knick knacks that can make great gifts. To find more exotic, head on to Little Penang Street Market where you can buy teas, sweets, slippers, bags and many more.
Solo , Couple , Friends , Family , Group
The best way to explore Penang Street Art is by walking along the streets as you can also get a clearer perspective of their culture by simply observing the people around the area.
MBPP Rapid Penang CAT is a FREE shuttle bus service. CAT, which stands for Central Area Transit, is an initiative of the Penang Island Municipal Council (MBPP) and Rapid Penang that covers a route from Jetty to Penang Road and back. Along the way, it makes 19 stops at strategic points of interest. The service runs from 6:00 am until 12:00 am midnight. Apart from the route around Komtar, the shuttle service also roves within the core and buffer zones of the George Town Unesco World Heritage Site.
As you have to explore the area to find the street arts, it is best that you plan your trip here for at least 2 - 4 hours. Don't be in a rush as you will find plenty of cafes and shops which you will definitely want to stop by. Keep in mind that although it is fun to snap pictures at these amazing works of art along the streets, it is advised that everyone should be aware of their surroundings and belongings. Although the crime rate is relatively low, a few snatch thefts have been reported in this area.