Bring your family and friends to the flying fox in Sunway Lagoon Extreme Park to have an unforgettable experience!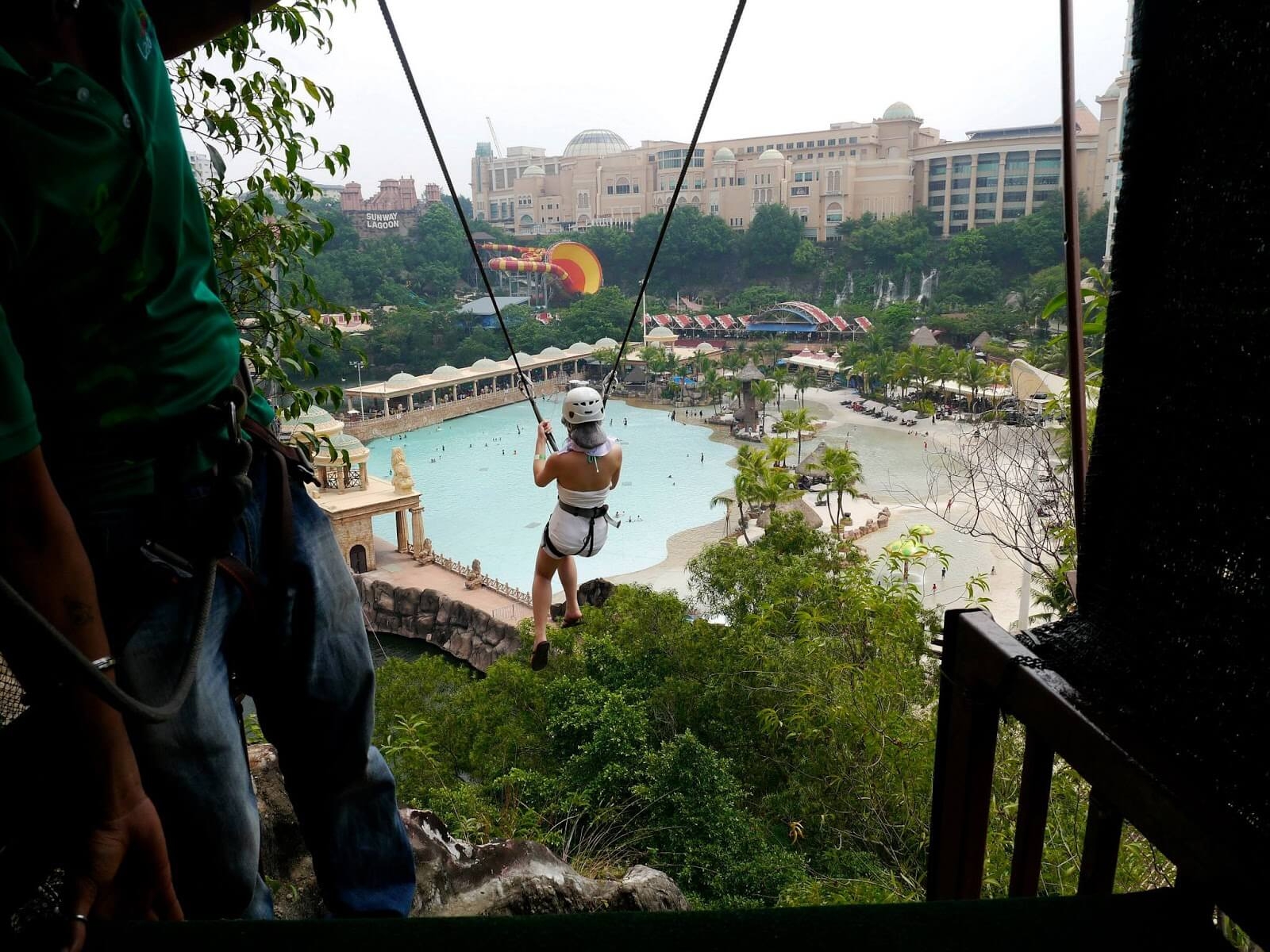 Operational Hours
| | |
| --- | --- |
| Monday | 10:00 am to 06:00 pm |
| Tuesday | 10:00 am to 06:00 pm |
| Wednesday | 10:00 am to 06:00 pm |
| Thursday | 10:00 am to 06:00 pm |
| Friday | 10:00 am to 06:00 pm |
| Saturday | 10:00 am to 06:00 pm |
| Sunday | 10:00 am to 06:00 pm |
The Sunway Extreme Park is the first theme park in the country that offers adrenaline-pumping sports and outdoor activities all in one location. The park is about 150 acres in size with a large lake in the middle, and has so many activities for the visitor that you simply do not know where to start. What is great about the Extreme Park is that it is not just for the thrill seekers! Those who seeks for something slower and more laidback are not left out as well. It also consist of the longest flying fox trail in Malaysia which span for 206 meters across Sunway Lagoon.
If you wish to enter the Extreme Park, you will need to buy the full admission ticket which includes entry to all parks in Sunway Lagoon which is RM150 for adult and RM 120 for children and senior citizens. You could get a 20% discount if you buy the ticket online on their website.
Get there as soon as it opens , as you will take all day to get around, especially if you have a group. They are also strict on height restriction. Visit all the Non Water Parks 1st, not a great idea walking around in wet bathers all day.
The Extreme Park can be reached by crossing the 428 meters long pedestrian suspension bridge (claimed to be the world's longest). The landing of the flying fox is in the wave pool, there is no splashdown so it is possible to participate without getting the upper body wet (you still need to wade out of the wave pool). Usually the wait time for the flying fox is long as it is the most popular rides in Sunway Lagoon.