For over 30 years, Kuala Gandah Elephant Conservation Centre has been known as home to many Asian elephants with some even coming from Thailand and Myanmar.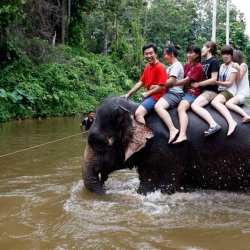 Operational Hours
| | |
| --- | --- |
| Monday | 08:00 am to 04:30 pm |
| Tuesday | 08:00 am to 04:30 pm |
| Wednesday | 08:00 am to 04:30 pm |
| Thursday | 08:00 am to 04:30 pm |
| Friday | 08:00 am to 04:30 pm |
| Saturday | 08:00 am to 04:30 pm |
| Sunday | 08:00 am to 04:30 pm |
Built in 1974, Kuala Gandah Elephant Conservation Centre is one of its kind in Malaysia. The aim of this centre is to bring these unique wildlife species back to their natural habitat while taking a good care of them. Some of them are even orphaned elephants. The centre is working hard to save these elephant species from being extinct.
Your visit to this centre is best if you could arrange a day trip around the huge sanctuary, where you could spend your time freely watching and observing the real lives of Asian elephants to learn more about their background and habitats. A documentary of the elephant translocation activity filmed back in 1996 together with National Geographic is also provided in the beginning of your tour.
Make a stop at the nearby Deerland Park to see Malaysian sun bears, Samba deers, peacocks, pheasants and other unique wildlife. If the time permits, they will also allow you to walk around and explore into one of the tribe settlement located next to the sanctuary. The tribe known as Che Wong is a minority tribe found in Peninsular Malaysia. There are several huts that were made of bamboo and rattan where you can explore further and learn about them at the visitor centre.
From your trip here, you will definitely gain a lot of valuable knowledge and experience to tell your friends and stories. If you decide to bring your family here, it could be a great opportunity for your children to get some wildlife exposure too. Be sure to take a lot of photos as well!
Couple , Friends , Family , Group
The best option is to drive here or get a tour guide to take you to the centre as Lanchang is located quite far from the main towns. This centre is just 15km away from Lanchang, Temerloh district. Visitors could drive from there and park at the parking space provided. From Kuala Lumpur, it is a 2 and a half hour journey by car. Use the Karak Highway and head towards Lanchang District.
As the town is not really big, the nearest accommodation you can get is in the bigger town which is Temerloh. It is located merely 45 minutes away.
Try planning your trip here earlier as the place is closed early in the evening. The best time to come is during the morning session.
Wear proper clothes that is suitable with the activities offered. As it takes place in the outdoors, wearing sports attire is highly recommended.
Bring a cap or hat along with you. The weather might be too hot at times!
The centre is closed from 1pm every Monday to Friday and reopens at 2.30pm. On the weekends, it is closed from 12.30pm and reopens at 2.30pm.
If you wish to make a donation, the centre would be pleased to receive any kind of contribution or support. You can directly send the donations to the administration here at the centre.