Whether you're a beginner or an old-timer, hit the surf at Cherating Beach where you can experience first class waves and beautiful sights!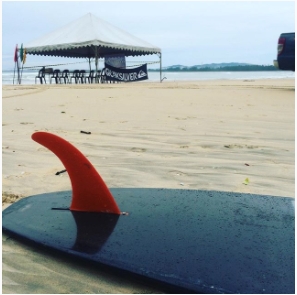 Operational Hours
| | |
| --- | --- |
| Monday | 07:00 am to 07:30 pm |
| Tuesday | 07:00 am to 07:30 pm |
| Wednesday | 07:30 am to 07:30 pm |
| Thursday | 07:30 am to 07:30 pm |
| Friday | 07:30 am to 07:30 pm |
| Saturday | 07:30 am to 07:30 pm |
| Sunday | 07:30 am to 07:30 pm |
Located around 30km North of the town of Kuantan, Cherating is a town popular for it's beautiful beach and beach resorts in the area. Surfing is a very favored activity here as it is one of the few places in Malaysia where there are actually excellent waves for good surfing. The surf season starts during the monsoon season from October/November to February/March that provides great waves to surf on.
Cherating Beach is also a good place for beginners to learn surfing as it has a sandy bottom and waves that are easy to negotiate in most places. WIth numerous guesthouses and surf schools along the beach, finding a board to rent won't be too difficult.
Malaysia's surfing scene is also somewhat non-existent, so you won't be seeing the massive crowds as you would at other countries. Coupled with cheap accommodation and a perfect little seaside village, your surfing experience at Cherating will definitely be a memorable one.
Board shorts
Surfing suits / Rash guards
Your own surfboard (if you wish to save up cost)
Plenty of water
Sun block
Surfboards for rent
Surfing equipments for rent
Toilets
Food stalls
Solo , Couple , Friends , Group
It is better if you bring a friend with you who can assist you or call for help in case an emergency occurs.
Protect your head when you fall. Alternatively, you could wear a helmet.
Make sure you're fit enough and strong for swimming or paddling against the waves!
During the peak surfing season, always be mindful of other surfers and always hold onto your board.
If bad weather conditions persist, come back the next day for risk-free surfing.
Being one of the most popular places in the country for surfing, make sure your hotel rooms and transportation to Cherating are well booked in advance for surf season!
Be sure to check the weather forecasts before you plan for your surfing trip here.
Surf packages for beginners with surf lessons and an included stay at a local chalet would cost around RM 470 - RM670.
Renting out a surfboard from the local guesthouses would cost you around RM 50 per day.