Come here for some horseback riding fun with the beautiful horses of Putrajaya Equestrian Park!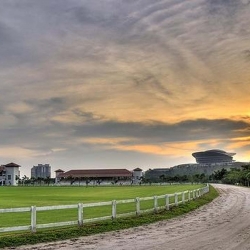 Operational Hours
| | |
| --- | --- |
| Monday | Closed |
| Tuesday | 07:45 am to 07:15 pm |
| Wednesday | 07:45 am to 07:15 pm |
| Thursday | 07:45 am to 07:15 pm |
| Friday | 07:45 am to 07:15 pm |
| Saturday | 07:45 am to 07:15 pm |
| Sunday | 07:45 am to 07:15 pm |
Putrajaya Equestrian Park is located in Precinct 20. There are about 60 horses at the equestrian park. 49 are owned by the park while the rest have its owners who have rented stables there. All the horses are suitable for riding, jumping and dressage only. The place offers activities such as riding lessons, outride, easy ride, and joyride.
A fun joyride around the stable will only cost you RM10, while an easy ride through a trail in the park itself will cost less than RM100. There are other services offered too such as escorted hacking. Additionally, you can arrange a private photoshoot session with the beautiful horses. If you plan to take up horse riding lessons, the price packages here are reasonable and you can choose a package combo of up to 10 private lessons.
Dress the part. Wear long pants to protect your legs from chafing against the saddle. Wear closed-toed shoes with a small heel to keep your feet from slipping out of the stirrups. Avoid all clothing that could get tangled in equipment including scarves, thin tank tops, and long loose sweaters or shirts.
Bring your own water of bottle to stay hydrated throughout the ride.
Riding equipment is provided and helmets are available for free.
There are polo fields, dressage arena, grandstand and paddock and hosts the occasional racing and jumping show event.
There is a restaurant called Mangiamo Cafe for you to get your refreshments.
Before jumping into the saddle, make sure the equipment is properly placed and secured. The instructor will usually help you with this but always double check.
If you are a beginner, make sure you have your instructor with you at all times. Don't go alone.
If your horse becomes very agitated, dismount and handle the situation from the ground.
Do not take photos of the horse with your flash on. That might excite the horse and you might get kicked!
Before coming, make sure you book your slot first. The place can be quite crowded with the numbers of booking, especially on weekends.
If you are new to riding, you are recommended to sign up for the combo package to practice and be reasonably comfortable in riding different horses.
Arrive at the stable at least 15 minutes before your lesson time. Get to know your instructor and horse first before you start your lesson.
A private photoshoot will cost you around RM150 per hour for one horse. It makes a great concept for pre-wedding photos.
The place is closed for any activities at 11.45am and reopens at 4.15pm daily. If you plan to come here in the morning, it opens from 7.45am.