Learn about the unique blend of intermarriages between the Chinese and local Malay — an exceptional culture exhibited only at Baba Nyonya Heritage Museum.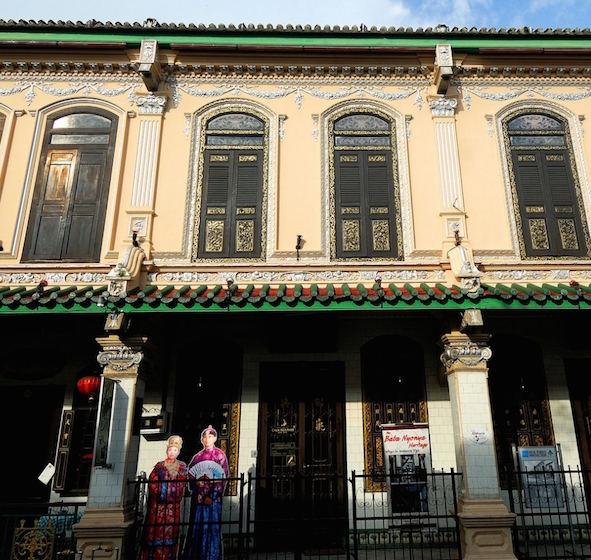 Operational Hours
| | |
| --- | --- |
| Monday | 10:00 am to 04:30 pm |
| Tuesday | 10:00 am to 04:30 pm |
| Wednesday | 10:00 am to 04:30 pm |
| Thursday | 10:00 am to 04:30 pm |
| Friday | 10:00 am to 04:30 pm |
| Saturday | 10:00 am to 04:30 pm |
| Sunday | Closed |
The Baba Nyonya Heritage Museum is a private museum in the Chinatown area of Melaka. The museum is housed in a classic Chinese shop house, restored to the state it was in the late nineteenth or early twentieth century. Admire the eclectic and opulent artifacts the family collected from across the globe, glimpse the richness of Peranakan culture in the architectures combining of Chinese, Malay and colonial British influences.
Here, you can take a guided tour to learn about the dynastic family and the way their individual tastes shaped the house and it present day appearance. The Baba Nyonya culture is a pride for local Malaccan as it has brought notable development in businesses as well as an amalgamation of culture in the historical city.
To dive more into the Baba Nyonya culture, make sure you visit Sixty 3 Heritage that is situated right in front of the museum. Find a wide selection of traditional wear including high quality handmade Kebaya, as well as hand drawn and hand stamped sarong. They also sell a variety of Peranakan accessories, men and ladies batik fashion, men and ladies cotton fashion, batik scarf, and enamel wares.
There is a small souvenir shop located within the museum compound that sells Peranakan handicrafts, accessories and cultural books.
To experience Malacca better, ride a trishaw or walk by foot to The Baba Nyonya Heritage Museum that is located in the old district of UNESCO Heritage area of Melaka Town on Jalan Tun Tan Cheng Lock. The street is directly parallel to the famous Jonker Walk.
If you want to avoid the crowd, refer to their official website calendar to see if you are coming during peak time periods.
You are strictly not allowed to take any photos or videos as this is known to be a private house.
Pay attention to your tour guide as he/she will give you interesting facts about the Baba
Nyonya culture.
The best time to take a tour here is in the morning. As the day settles in, crowd becomes bigger and your tour might get interrupted with noise.
The museum is closed on public holidays.