Whether you're going at it tandem or all alone, the thrill and adrenaline rush you get from jumping freely into the air will get you addicted to skydiving.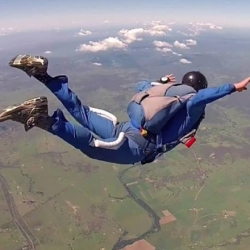 Operational Hours
| | |
| --- | --- |
| Monday | 09:00 am to 05:00 pm |
| Tuesday | 09:00 am to 05:00 pm |
| Wednesday | 09:00 am to 05:00 pm |
| Thursday | 09:00 am to 05:00 pm |
| Friday | 09:00 am to 05:00 pm |
| Saturday | 09:00 am to 05:00 pm |
| Sunday | 09:00 am to 05:00 pm |
Located 45 minutes away from Malacca City, Sungai Rambai Aerodrome serves primarily as a backup airstirp to the Malacca International Airport. Since it was first built, the aerodrome has been utilized by many companies offering thrill seekers activities in aerosports. The main event in Sungai Rambai is skydiving.
Once you register for your course with a company, you'll be directed to the Sungai Rambai aerodrome for your initial safety briefing. Depending on whether you choose tandem skydiving or static line skydiving, the ground briefings last from 20 minutes up to 5 hours.
Next, you'll be whisked up for equipment fittings, safety checks and then straight to the Cessna for your jump! The air crew on board will settle you before your jump and you're cleared to dive once the plane has reached 10,000 feet. You'll get to experience free falling through the clouds for 30-50 seconds till you have to deploy your parachute. After that, it's all fun as you're gliding through for 10 minutes, with absolutely nothing in your way! You'll be guided to land near the predetermined zone and that's a full day of adventurous skydiving.
Wear proper sports shoes and loose fitting clothes.
There are toilets and rest areas provided within Sungai Rambai Aerodrome.
Solo , Couple , Friends , Group
Follow the safety instructions of the air crew at all times during the course.
Double check your rig and make sure everything is in place. If you are unsure, notify the instructors.
Inform the staff if you have any specific medical conditions that could affect you during the activity.
Ensure that you do everything your tandem instructor tells you to, as they are there to guide you safely to the ground.
Leave all items such as cell phones and car keys on the ground, do not bring anything with you on the flight unless the air crew says it's okay.
Pre booking reservations with companies such as Ace Skydive enable you to get up to 20% off on the total cost.
Recording your dive with a video camera is subject to the instructor's permission, talk to them about the possible options.