This cruise along the historical waterway showcases the best sights on the Malacca River, illuminated by the beautiful lights and lively attractions at night.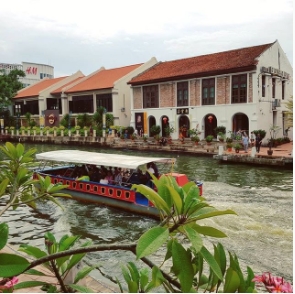 Operational Hours
| | |
| --- | --- |
| Monday | 09:00 am to 12:00 am |
| Tuesday | 09:00 am to 12:00 am |
| Wednesday | 09:00 am to 12:00 am |
| Thursday | 09:00 am to 12:00 am |
| Friday | 09:00 am to 12:00 am |
| Saturday | Closed |
| Sunday | 09:00 am to 12:00 am |
During the 15th century, the Malacca River acted as a great trading hub and safe shelter for ships passing through the Straits of Malacca. This winding river cuts through the UNESCO World Heritage site and has been upgraded with more cleaning of the river and restoration work done to the buildings on the banks.
The starting point of this cruise is either at the Muara Jetty or the Tanah Rempah Jetty. The Muara Jetty is the better known pick up spot as it is closer to Jonker Walk and the other main attractions in Malacca City. From here you'll be ushered into the cruise boats which seat 40 passengers under cover. The boat takes you to the Tanah Rempah jetty and back to Muara Jetty. This takes about 45 minutes and let's you relax and enjoy the views while listening to a pre-recorded commentary (in both Bahasa Malaysia and English) at highlighted locations during the 9km voyage.
During your time on the boat you'll be able to see artistic murals painted by local artists on the walls of the buildings on the banks. They're lit up by bright lights and the decor is clearly visible. Furthermore, passing under the bridges and the colorful lights provide a great photo opportunity as you get to see their reflection on the water. Plus, the biggest advantage of going on a night cruise is that there's no hot sun to deal with!
Get ready to take some cool shots with your cameras! It will surely make a great memory for you in the historical city of Malacca.
Lifejackets are provided by the boat crew.
Solo , Couple , Friends , Family , Group
Follow the instructions of the boat crew at all times during the cruise.
Keep your life vest on and request for one if you did not receive it.
While the front row seats on the boat have the best views, you'll also be subjected to splashes from the bow wave.
If you don't feel like going at night, try opting for the departures during dusk hour as the lightings on the banks will be lit up during that time as well: offering you a good compromise between daytime and nighttime.