The Annah Rais community is the best place to visit and learn about a new culture's traditions and find some peace in a beautifully secluded countryside.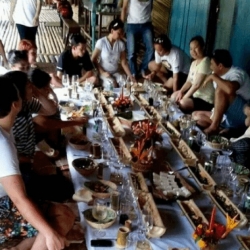 Operational Hours
Always Open
Located about 100km south of Kuching, the Berlian wood and bamboo structures that make up Annah Rais Village gives you a calm, welcomed feeling as you approach it. The thriving village itself is not made up of longhouses, but multiple detached homes connected by walkways that still maintain a community aspect to them.
As you venture towards the centre of Annah Rais village, you will find the longhouse which is nearly a century old and home to 5 generations. The Bidayuh tribe who still live there are happy to show you around and teach you more about their lifestyle and culture.
The longhouse holds about 120 families that practise different faiths such as Christianity, Islam and Animism. Most of the villagers here still make their living by planting and harvesting crops such as pepper while some moved out to the city to work in the government or private sector. By the end of your trip here, you will get a great takeout on the Bidayuh cultural values to reflect upon. They are known to have strong bonds between each other in the community even if they are not related by blood, they are just like families.
A 6 minute drive away from Annah Rais longhouse lies the Annah Rais hot spring. A hidden gem, this natural hot spring has hot and cold pools surrounded by a scenic jungle view. The hot spring itself is located in a river, and with a cheap entrance fee of RM 5, it's definitely a great place to relax and have a dip.
Through the homestay programs, it's a unique experience on its own that you can stay here as the Annah Rais village is one of the oldest in Sarawak (dating back 200 years or so) yet still maintains its traditional architecture and way of living.
The locals will be selling crafts, food and local fruits in the village. You could purchase some of those for the trip back home and you'll also be supporting the local community's economy and livelihood.
Couple , Friends , Family , Group
The best way to get to Annah Rais village is by hiring a local taxi. Most of the time the fare will typically be RM 100 one way (do haggle!). For big groups, it's better to approach a tour operator as you can charter a van from them and save cost.
If you're planning to drive yourself to Annah Rais Village, be sure to arrive before 9.30 am as most activities here will start at 10am along with the jungle tours. Leave from Kuching around 7.30 am to 8.00 am as it will take around 1.5-2 hours to reach the village.
It is best to visit the village during the day if you wish to meet the local community and explore their daily activities. Try their homemade tapioca crackers and tuak (an alcoholic beverage).
One day isn't enough to learn and appreciate the Bidayuh culture. If you want more of an experience, opt for a homestay with the homestay coordinator, Mr Edward! There are packages that for example, include hikes to a nearby waterfall, kayaking and bamboo rafting.
If you're coming from Kuching and not planning to stay here for a night or two, it is recommended to look for any authorised tour agent that arranges day trips to Annah Rais Longhouse Village.