Explore the lush greenery and crystal clear waterfalls of Kubah that will surely amaze you! Then, take a hike up Mount Serapi to quell your adventurous desires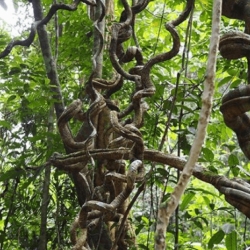 Operational Hours
| | |
| --- | --- |
| Monday | 08:00 am to 05:00 pm |
| Tuesday | 08:00 am to 05:00 pm |
| Wednesday | 08:00 am to 05:00 pm |
| Thursday | 08:00 am to 05:00 pm |
| Friday | 08:00 am to 05:00 pm |
| Saturday | 08:00 am to 05:00 pm |
| Sunday | 08:00 am to 05:00 pm |
Located just a mere 20km away from Kuching, Kubah National Park is paradise for a nature lover as it's easily accessible and friendly to hikers. While most of the wildlife in Kubah tend to reside deeper inside the park, this mixed dipterocarp forest offers unbeatable scenery, waterfalls and streams through six of the it's most popular treks.
There is also a direct path to the summit of Mount Serapi which takes about 5-6 hours return trip for those who would like to venture to almost 1000ft above sea level! The highlight is the waterfall trail which takes only 90 minutes to reach a beautiful waterfall feature where you can swim in the cold water and enjoy yourself!
One day is not enough to fully explore Kubah National Park's offerings. The park has a lodging facility where you can stay for cheap prices in dorms. If you are going there in groups, you can enquire to organise a guided tour as well.
Plenty of water for the duration of your stay
Change of clothes
Insect repellant
Small towel
Cap/hat
Poncho/raincoat
Dried food/packed food
Toilets
Rest areas
Lookout spots
Campsite
Bungalow
Rest houses
Hostels
Kitchen facilities (only in the accommodations)
Solo , Couple , Friends , Group
If a thunderstorm rolls in when you're in the park, head to an open area.
Watch out for bees, wasps, slippery slopes and dead branches.
Do not smoke and improperly dispose of the cigarette butts as it can cause fires.
When swimming, do not enter the water alone. Ensure that there is a friend nearby that can help you should the need arise.
Be careful when jumping into the pools at the base of waterfalls if you cannot see the bottom and have not checked for any submerged objects.
Keep your distance from the wildlife. It's fine to observe them from afar and take pictures but do not approach them as they are wild animals in their natural habitat.
Stick to the trails when trekking to avoid getting lost.
Some areas may be closed off by rangers after periods of intense rain or weather. Obey the signages and warnings as they are meant to keep you safe.
Check in your trip with the park HQ so they know to look for you if you go missing. If you do not feel confident with the trails, you can opt to hire a guide and let them bring you around the park.
Visit on weekdays if possible as there won't be too many visitors.
Night trips with guides only cost RM10 and only require you to have your own flashlight!
The hike to the waterfall is highly recommended as it is considered to be of moderate difficulty and brings you in contact with many wildlife creatures as well.
There are no restaurants available within the park grounds so be sure to pack your own snacks or food.
The accommodation is managed by the park's HQ and bookings have to be made in advance due to the limited number of rooms available.
Make your bookings during the weekdays if you plan to stay in any of the accommodation services offered here as the office isn't open on the weekends and public holidays.
A typical full day trek of Kubah National Park and Matang Wildlife Centre via a tour operator will cost around RM 330 - RM 350 with transportation to and from Kuching.
Price range for the entrance fee to Kubah National Park is from RM5 - RM10 for Malaysians and RM7 - RM20 for foreigners.