Rainforest World Music Festival attracts a plethora of talent to Kuching for a weekend of music and art appreciation in the middle of the Bornean rainforest.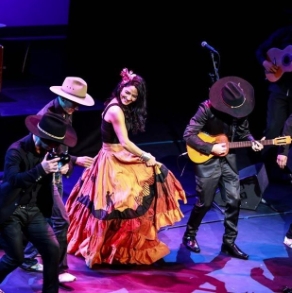 Operational Hours
| | |
| --- | --- |
| Monday | Closed |
| Tuesday | Closed |
| Wednesday | Closed |
| Thursday | Closed |
| Friday | Closed |
| Saturday | Closed |
| Sunday | Closed |
The Rainforest World Music Festival is organised on an annual basis by the Sarawak Tourism Board and has become a cultural phenomenon in recent years. Nearly 20,000 people make their 'musical pilgrimage' for the 3-day event that sees up to 25-30 bands and artists perform a variety of ethnic and traditional folk music. It is joined by renowned world musicians as well as many other talented musicians from the Borneo island itself.
Held at the Sarawak Cultural Village, the rainforest background provides a surreal experience and a great time listening to amazing music. Additional events during the festival include workshops, jamming sessions, musical lectures, and craft bazaar. You can even bring your kids to join the many workshops to educate them on cultural diversity and arts.
It is also a great place to make new friends and networking with the many visitors. There are tourists coming from different parts of the world sharing the same passion of cultural arts and music here during the event. Accompanied by the sounds of the jungle, Rainforest World Music Festival will definitely be a unique experience for everyone.
Festival ticket
Sun block
Personal medications
Change of clothes
Poncho/raincoat
Outdoor mat
Identification cards/passport
Enough cash for the duration of the event
Public toilets, Food village, Hawker stalls, Bazaar.
Solo , Couple , Friends , Family , Group
Party safely. Make sure you keep tabs on the amount of alcohol you're drinking and always say no to drugs!
Dehydration poses to the greatest risk to you amongst the heat of all the raving and dancing.
Always replenish your fluids and stay cool by wearing a hat and staying in shaded areas when you can.
Consider using a buddy system, where you look out for your friends and they do the same for you throughout the festival.
Look after your belongings carefully as the place will be crowded throughout the performances.
Arrive early! Queues start forming early at the entrance for tickets and admission because of verification and security protocols.
Make use of the shuttle buses provided by the management during the event as parking facilities for vehicles is very limited. Be sure to know the layout of the venue so you have an idea of where to go to reach the toilets, F&B areas, or during a general emergency.
Remember that items such as knives, dangerous items, outside food and drink are not permitted inside the venue. The annual schedule for performances and many other activities are subject to change every year. Refer to their official website www.rwmf.net for the full programme.