Get on a wild, fun-filled raft ride on the raging rapids of the Padas River where you can take up the challenge to navigate 8 unique swells.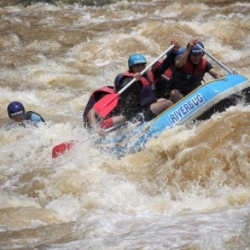 Operational Hours
| | |
| --- | --- |
| Monday | 11:00 am to 01:00 pm |
| Tuesday | 11:00 am to 01:00 pm |
| Wednesday | 11:00 am to 01:00 pm |
| Thursday | 11:00 am to 01:00 pm |
| Friday | 11:00 am to 01:00 pm |
| Saturday | 11:00 am to 01:00 pm |
| Sunday | 11:00 am to 01:00 pm |
The Padas River rafting route covers nearly 9km of this 200km river with oddly-named swells such as Merry-Go-Round Rapid and Break Point Rapid. The adventure begins even before you get in the raft as you have to board an antique train that has been in service since the late 19th century in Borneo. After being dropped off in what seems to be the middle of nowhere, your guide will bring you to the starting point where you will face the rapids.
You'll feel the wrath of the class III-IV river as the current unrelentingly pushes you forward and you'll struggle to even stay on the raft! The rough waters will definitely put you in for a thrill ride and give you the ultimate satisfaction of conquering the rapids of the Padas River.
Comfortable swimwear
Sandals with straps
Towel
Cap/Hat
Sun block
Insect repellant
Breakfast/snacks for the train ride
Extra set of clothes
A bag to secure your valuables
Straps for glasses
Locker to store your belongings
Limited facilities at train station for drinks and snacks
Always keep your lifejacket and helmet on. If you did not receive a life jacket, insist for it. Once your lifejacket is secure, do not loosen it.
Listen to the safety briefing before getting in the raft and follow all of the guide's directives when inside the raft.
Remain in the raft at all times! It's harder to recover you from the rapids than from the raft.
Don't fall asleep during your journey! The experience of using classic buses and an antique train, passing through the paddy fields, watching the local schoolchildren get to school, enjoying the scenic countryside and being dropped off in the middle of nowhere, it's all part of the adventure. Savor it.
Do bring your camera to document your trip but leave it inside your bag before going on the rapids. There is a photographer you can hire for a fee to take pictures of your raft, saving you the hassle.
It helps if you're a strong swimmer as you will most probably fall off the raft a few times. But afraid not, a safety canoe will follow you to help people who fall or drift away.
Most tour operators will provide this activity from 11am to 1pm daily.
If you're staying in Kota Kinabalu and planning to list this activity in your itinerary, be sure to spare at least the whole day as the time needed to travel from Kota Kinabalu to the starting point and returning will take roughly 14 hours (depart at 5am and be back at 7pm).