Hop between 5 beautiful islands that offer great diving and snorkelling opportunities in the pristine waters and relaxation on the perfect beaches.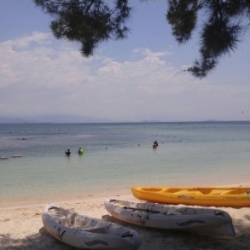 Operational Hours
Always Open
Gazetted in 1974, Tunku Abdul Rahman Marine Park is located 30 minutes northwest of Kota Kinabalu and receives well over 300,000 visitors in a year. It consists of a cluster of 5 islands: Pulau Gaya, Sapi, Manukan, Mamutik and Sulug that are all accessible via speedboat. As the islands experience great number of tourists and locals, it is easy to find basic facilities on the island.
The islands are known worldwide as being a paradise for diving and snorkelling in crystal clear waters where you can see the aquatic life underwater undisturbed in their natural habitat. Water activities and sports such as sea walking, parasailing and kayaking are also available from tour agents operating on the islands. If you're into jungle trekking, Pulau Gaya has over 20km of trails where you can hike and discover monitor lizards, wild boars and even some snake species!
Sun block
Insect repellent
Change of clothes
Towel
Your own packed food, restaurants may be a bit expensive.
Restaurants
Toilets
Picnic tables
Changing areas
Diving centres
Mini marts
Snorkeling & diving equipment rental services
Accommodation (only in Manukan, Sapi and Gaya Island)
Couple , Friends , Family , Group
Be aware of the signs that warn for jellyfish, and check with the park officials if it is jellyfish season. Rinse stings with seawater instead of vinegar and seek immediate medical attention.
Avoid the eastern tip of Pulau Gaya as this part of the island is dangerous due to a high probability of crime and mostly consists of a floating colony of illegal immigrants.
Do not head to the islands if there is foreseeable bad weather ahead! The seas can be very rough and your return journey might be affected.
If you are bringing children along, always supervise them when they enter the water and be next to them as there maybe sudden 1-2 metre inclines in some parts of the beach.
Get to the islands early! Going on weekends and public holidays is a bad area as the area gets very crowded.
Smaller islands such as Sulug and Mamutik have little or no facilities available, so be sure to carry what you need with you.
Strictly make it a rule to only book island hopping tours and watersport activities with an established tour operator and kindly dismiss friendly locals as the safety of your activities are not guaranteed by them and it is easy to get conned.
You can camp at some of the islands if you want a little extra adventure! Just visit Sabah Parks office in Kota Kinabalu to purchase a permit before departing to the marine park.
If you are travelling with families or friends and have extra budget for your trip, you can also look for a private boat day charter at the Marine Park.