Beautiful mountains, thriving marine life and unique animals coupled with the city's amazing music, food and people shows that KK is nothing short of paradise.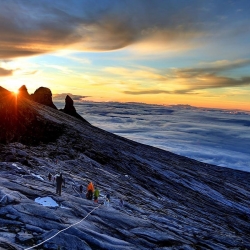 A trip to Kota Kinabalu isn't complete without a visit to the Mari Mari Cultural Village, where you can get in depth knowledge of the ethnic communities customs and traditions. Kota Kinabalu Wetland Centre showcases 24 hectares of what remains of the vast mangrove forests that used to inhibit the coast of Kota Kinabalu.
Just a half hour boat ride away from the city centre, Tunku Abdul Rahman Marine Park greets you with the sights of white beaches and clear waters. The sprawl of 5 islands make up this national park and are renowned for scuba diving and snorkelling from visitors worldwide!
The Kota Kinabalu stands out as one of the many aesthetic attractions in the city with its scenic lagoon surrounding and eye catching architecture. Food markets along Jalan Tun Fuad Stephen is where the action is at nighttime, you get to see local vendors displaying their arts and crafts for sale along with multiple fresh seafood stalls showing off their catch.
Another attraction in Kota Kinabalu is Atkinson Clock Tower, the oldest standing structure in Sabah offers a great space to learn more about the state's history and enjoy the sun. The highlight of course, Kinabalu Park! A UNESCO World Heritage Centre, Kinabalu Park offers trails, walks and climbs to view Mount Kinabalu and explore the rich flora that's unique to this part of the world.
January - Chinese New Year Celebrations
March - Great time to see whale sharks as plankton is booming
May - Harvest Festival
June - Sabah Dragon Boat race, Coconut festival
November - Tamu Besar Kota Belud
December - Christmas celebrations
Solo , Couple , Friends , Family , Group
Roti Cobra, Yee Wat and Beef Noodles, Oyster sesame sauce chicken, fresh seafood, Grilled fish and lobster
Kedai Makan Islamic Restaurant, Kuo Man Noodle House, Fatt Kee/Ang's Hotel, Welcome Seafood, Kedai Kopi Yee Fung, Philippine Night Market
Selamat pagi/petang/malam. (Good morning/evening/night)
Thank you. (Terima kasih)
Welcome. (Sama-sama)
Yes. (Ya)
No. (Tak)
Bikin. (To do or make)
Andang andang (That's how it is)
Tapau (Take away)
How much is the price? (Berapa harga ini?)
I'm lost. Can you help me? (Saya sesat. Boleh awak tolong saya?)
Do you know where is this place? (Awak tahu di mana tempat ini?)
Can you help me take a picture? (Boleh awak tolong saya ambil gambar?)
Always haggle when it comes to taxis, crafts and touristy places. You can save nearly third of the price!
Don't be tricked at the airport by people offering you rental cars, Kota Kinabalu town has a decent public bus system and the city is compact enough that you can walk to most places of interest.
Go for fresh seafood establishments by the coast, they have the freshest catch of the day.
It's mostly dry throughout the year, but short showers do occur and are easily predictable. Carry around an umbrella just in case.
Book diving, climbing and wildlife tours with reputable tour agencies only to avoid being scammed or unsafe travels.
Read reviews online.
For a deeper look into the cultures and traditions of the indigenous people of Sabah, you can book homestays with them from tour companies operating in Kota Kinabalu.
Kota Kinabalu hosts plenty of cultural annual festivals that attracts visitors from different parts of the world. For example, Harvest Festival in May and Coconut Festival in June.
Check their yearly calendar for festivals or events happening there during your time of visit.