Be one with nature by freediving in an underwater world filled with colourful fishes and beautiful corals. This activity will make you remember Tioman forever.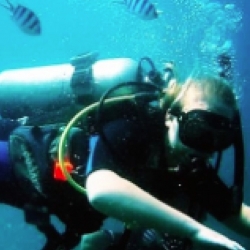 Operational Hours
| | |
| --- | --- |
| Monday | 07:00 am to 06:30 pm |
| Tuesday | 07:00 am to 06:30 pm |
| Wednesday | 07:00 am to 06:30 pm |
| Thursday | 07:00 am to 06:30 pm |
| Friday | 07:00 am to 06:30 pm |
| Saturday | 07:00 am to 06:30 pm |
| Sunday | 07:00 am to 06:30 pm |
Freedive Tioman is the first freediving centre to set foot on the island. They are located right by the beach at Swiss Cottage Resort in front of a beautiful reef. This is where most of the courses and trainings take place.
Bring along your sunscreen and apply it before diving as it can get really hot if your diving session is in the afternoon.
If you are a certified diver and just come for a casual freedive, bring along your dive certification card so that you'll get a diving session at a cheaper price.
If you have your own dive gear, make sure you bring it along on your trip so that you wouldn't have to rent for one.
Certified Apnea Total freediving courses
Training for freediving
Coaching from the best instructors
Fun dives and beautiful diving sites
Solo , Couple , Friends , Group
Make sure you know how to swim with or without fins. This is to ensure that when you freedive, you do know how to control your body underwater. If you want to freedive but think you are not ready, try practicing your diving skills in a normal swimming pool first before hand.
When you dive underwater, you will have to equalize your air spaces. You do this by pinching your nose and blowing gently against it. You should equalize every 1 meter you descend.