More than just a border town, the sprawling capital of Johor is alive with great eateries, fun family-friendly activities and beautiful sights to visit.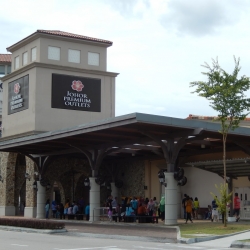 Johor Bahru's prime tourist destination: LEGOLAND Malaysia promises a fun day for the entire family with its combined theme park, water park and themed hotel as well. Danga Bay's amusement park by the waterfront is also a great option to relax and enjoy yourself surrounded by friends and family.
A concept by Johor's Crown Prince, the JDT (Johor Darul Takzim) Cafe is adjacent to the JDT training ground at Padang Seri Gelam. The JDT, more commonly known as the 'Southern Tigers' are a premier Malaysian football team that currently plays in the top division of local football. There's a mix of local and international dishes being whipped up here; and if you're lucky you may even spot some of the team members in the Cafe from time to time!
The Johor Zoo, albeit small, is a great place to experience nature and the variety of wildlife in Malaysia. For a cheap admission fee and lots of exhibits, this can definitely be a free and easy slot on your itinerary.
Delight your eyes with the architectural wonder that is the Sultan Ibrahim Building. Once the tallest building in Malaya before the country gained independence, it was built based on Malay and colonial themes. Historically it served as the state secretariat building and a fortress when the Japanese occupied Malaya.
New to the theme park scene in Johor, Sanrio Hello Kitty Town & Thomas Town is located by Puteri Harbor and is highly recommended for children and die hard Hello Kitty fans!
Visit the Arulmigu Sri Rajakaliamman Glass Temple which is unique due to its glass covered interior and exterior. You can also experience Hindu culture here and talk to the locals. For a little history lesson about Johor, a trip to the Johor Bahru Chinese Heritage Museum is in order to learn about the history of the Chinese community in Johor Bahru along with documents, artifacts and photos from the past.
March
April
May
June
July
August
September
October
Solo , Couple , Friends , Family , Group
Banana leaf rice, Johor laksa, Johor Mee Rebus, Nasi ambang, Traditional Hainanese Beef Noodle, Banana cake and malt bread
Kerala Curry House, W.W Laksa House, Mee Rebus Stulang Laut, A. B. Rahmat Stall,Hiap Joo Bakery, Mok Chai Hainanese Beef Noodle
Selamat pagi/petang. (Good morning/evening)
Terima kasih. (Thank you)
Maaf. (Sorry)
Saya tersesat (I'm lost)
Bolehkah saya membantu anda? (Can I help you?)
Bolehkah anda membantu saya? (Can you help me?)
Berapakah harga ini? (What is the price?)
Bolehkah anda membantu saya? (Can you help me?)
Tandas di mana? (Where is the toilet?)
The best of Johor's cuisine is found at hawker stalls and restaurants packed with locals. Observe where the people traffic at restaurants are and ask around if you're not sure.
Dress modestly when entering a religious institution and be wary of your behavior.
It's best to carry an umbrella with you as thunderstorms and showers can occur randomly.
There are annual events happening in Johor Bahru where you should experience to make the most of your trip here.
International events - In February, Pasir Gudang World Kite Festival and Chingay Parade will be held.
Cultural & Arts events - In May, there is Nusantara Culture Festival, Johor Arts Festival is held in June and November, Johor Bahru Classical Musical Festival in July, while the notable Kuda Kepang Festival (a must-watch traditional cultural performance!) is held in August.
However, it is not recommended to go from November to February as it is during the monsoon season and it might limit your chance to try out all the outdoor activities offered.