Renggis Island is the perfect spot for you to see one of the best corals as all the good stuff to see here is in the shallow waters. Definitely the perfect spot!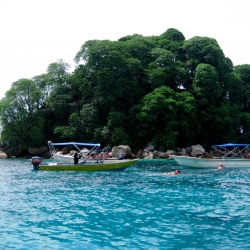 Operational Hours
| | |
| --- | --- |
| Monday | 12:30 pm to 05:00 pm |
| Tuesday | 12:30 pm to 05:00 pm |
| Wednesday | 12:30 pm to 05:00 pm |
| Thursday | 12:30 pm to 05:00 pm |
| Friday | 12:30 pm to 05:00 pm |
| Saturday | 12:30 pm to 05:00 pm |
| Sunday | 12:30 pm to 05:00 pm |
Renggis Island is a small forest clad island in Tioman that is situated right in front of Berjaya Tioman Resort's boat jetty. It is known to be one of the best snorkeling spots in Malaysia. Here, you get to enjoy the beautiful marine life first hand. The island now is a permanent home to large coral reefs that has provided its sanctuary to a wide diversity of marine life.
Bring along your sunscreen as sometimes the heat can be ridiculously hot and you might get sunburned.
Remember to keep yourself hydrated with plenty of water and bring along some snacks as snorkeling can be very tiring and it makes you hungry.
If you have your own underwater camera or GoPro, make sure to bring them along because you would definitely want to capture the friendly marine life in Renggis Island.
There will be a boat that will bring you straight to Renggis Island.
Snorkelling gears is already provided for when you pay your deposit for the snorkelling trip.
Life jackets are also included as they are all already ready in the boat.
Solo , Couple , Friends , Family , Group
If you do not know how to swim, make sure you wear your life jacket and flippers during snorkelling. This will protect you from drowning. Also, do not snorkel too far from the boat until the boatman lose sight of you.
Make sure to wear sunblock so that you wouldn't be sunburned.
Remember to not hurt any of the marine life or try to catch any fishes to bring home.
If you are into the marine life and would love to see real life turtles and crocodile needlefish, then make sure you bring along your underwater camera when you come here.
Make your booking as fast as possible as the bookings to Renggis Island is usually packed, especially during weekends or school holidays.
Plan your trip here carefully. It is advisable to not come here during monsoon season.